Apr
1
Sun
Open Day

@ McLaren Wharf
Apr 1 @ 11:00 am – 4:00 pm
Come on board and see South Australia's greatest sailing asset. Walk the decks, be at the ship's helm, venture into the galley and the saloon. This handcrafted ship will tell you the stories of yesteryear of how sail transport & life on board was like. The STV One & All is a living and working vessel providing experiences and enjoyment to the people of SA. This Open Day will give you an insight to sailing history to be shared. You are welcome to ask questions, and may want to consider booking a day sail or even a voyage.
Open from: 11am – 4pm
Entry: Donation
Apr
5
Thu
Kangaroo Island Discovery Voyage

@ McLaren Wharf
"Get on Board!"
See Kangaroo Island no other way than from South Australia's great Tall Ship – the One and All
Discover the adventure by joining this unique voyage. You will see the workings of this great ship, and get hands on with all the activities at sea. No sailing experience is necessary as we will teach you the "ropes". These voyages are designed for the adventurer at heart!
There are numerous opportunities to participate in different aspects of Tall Ship sailing life. To keep the vessel sailing, each person joins a watch (teams). The Watch Leaders and crew members will guide you with helming (steering) the vessel,  setting the sails, standing watch, climb the masts and bow nets, navigation and course setting.
STV One & All is a true hands-on vessel. We invite all passengers to join in the experience of this remarkable ship. While we have plenty of crew to operate the ship, there is no expectation or pressure to do any of the above activities. Alternately, if activities are not your desire, sit back and relax as the water flows past and the birds soar high above the masts. Change your life forever by exploring our coast from the deck of a tall ship.
Voyage will include;-
• Sailing from Port Adelaide and return to same port.
• Special event meals – Captains dinner & shore picnic lunch
• Voyage handbook – Ship terms, knots, sails, and life at sea.
• All the activities included e.g. climbing rigging & bow nets, helming at the wheel, setting the sails with the crew, sail & navigation instructions.
• On board catering of hot & cold meals, snacks, cool drinks. All food is prepared freshly on board. Dietary requirements can be arranged
• Accommodation in individual bunks with linen, pillows & blankets. We suggest to bring own sleeping bag, toiletries & towels
• Use of ship's safety equipment & wet weather gear
For this special adventure we only offer a maximum of 18 berths!
Don't be left standing on the wharf wishing, book today!
Apr
22
Sun
Day Sail

@ McLaren Wharf
Apr 22 @ 10:00 am – 3:00 pm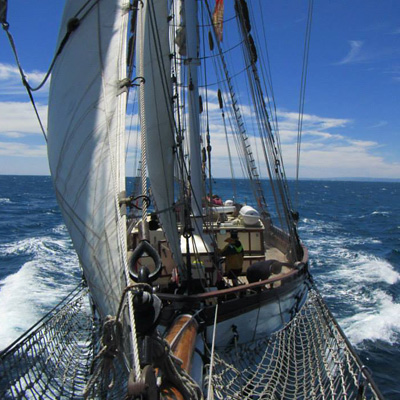 EVENT SOLD OUT 
Come on board the deck of One & All, and take the opportunity to have the same experience as thousands of sailors across the ages. Get involved in setting the sails, or alternatively, sit back, relax and soak up the atmosphere in our "Millionaire's Row" deck chairs.
You can climb the mast and enjoy the view from on high. Under the watchful eye of our experienced crew, scale the rigging just like a sailor of yesteryear but with the added assurance of 21st Century safety gear.  From your vantage point, high above the deck, you will get an entirely different perspective of this incredible ship and the seas below. You may even, if you're lucky, be the first to see Dolphins.
A Day Sail includes a delicious on board catering, tea, coffee and cool drinks.
Come sailing on South Australia's greatest asset – our lady of the sea the STV One & All
Departure Time: 10am (note boarding time 9.15 am)
Return: 3pm
Adults $99
Concession / Full Time Student / Pension Card $89
Child (yrs 6-14) $69