Apr
15
Sun
Explorer Youth Voyage

@ McLaren Wharf
"…..Imagine being at the wheel of a tall ship, under a night sky, the ship surging over the waves and wind in the sails. Join the crew in the workings of STV One and All, keeping watches at sea, handling sails and much more. No sailing experience is necessary, as we will teach you the "ropes".
Join the adventure of a life time! Here is the chance to climb new heights, push your limits and gain the rewards in the challenges mastered. A voyage to create new friendships and best of all – fun, fun, fun!"
Calling all 15- 19 years, this adventure is a 5 day voyage, 15 – 19 April 2018, during the school break.
To keep the vessel manned 24 hours a day you will be divided into watches (teams). Your Watch Leader and other members of the crew will get you involved with all of the activities on deck:
Helming (steering) the vessel
Setting the sails and adjusting them by hauling on ropes
Standing watch (looking out for other ships)
Climb the masts and bow nets
Team activities, navigation and sail instructions
Voyage event will include
All meals and accommodation on board
STV One and All Voyage handbook
Sail handling, navigation & ship husbandry training
Team activities & challenges
Use of heavy wet weather clothing protection and safety harnesses
Event shirt & Achievement Award certificate
Award presentation on deck of ship at end of voyage
5 Day Voyage, departs & returns to Port Adelaide, the journey will be where the winds takes us & discover some remote beaches.
STV One & All is a true hands-on vessel and a unique experience that will be remembered for life. Change your life forever by exploring the world from the deck of a tall ship and discover what you can achieve. BOOK TODAY!!
Apr
22
Sun
Day Sail

@ McLaren Wharf
Apr 22 @ 10:00 am – 3:00 pm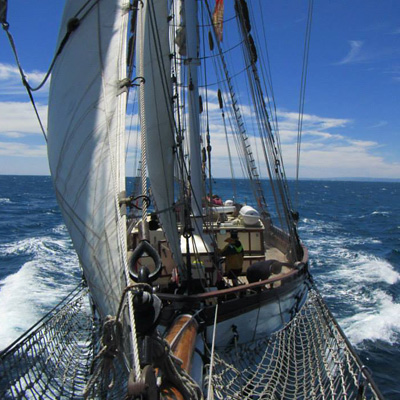 Come on board the deck of One & All, and take the opportunity to have the same experience as thousands of sailors across the ages. Get involved in setting the sails, or alternatively, sit back, relax and soak up the atmosphere in our "Millionaire's Row" deck chairs.
You can climb the mast and enjoy the view from on high. Under the watchful eye of our experienced crew, scale the rigging just like a sailor of yesteryear but with the added assurance of 21st Century safety gear.  From your vantage point, high above the deck, you will get an entirely different perspective of this incredible ship and the seas below. You may even, if you're lucky, be the first to see Dolphins.
A Day Sail includes a delicious on board catering, tea, coffee and cool drinks.
Come sailing on South Australia's greatest asset – our lady of the sea the STV One & All
Departure Time: 10am (note boarding time 9.15 am)
Return: 3pm
Adults $99
Concession / Full Time Student / Pension Card $89
Child (yrs 6-14) $69