Mar
31
Sat
Day Sail – Easter Saturday

@ McLaren Wharf
Mar 31 @ 10:00 am – 3:00 pm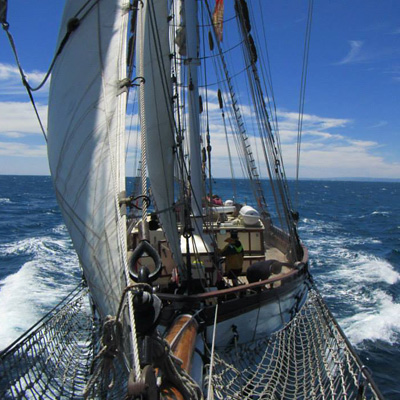 Come on board the deck of One & All, and take the opportunity to have the same experience as thousands of sailors across the ages. Get involved in setting the sails, or alternatively, sit back, relax and soak up the atmosphere in our "Millionaire's Row" deck chairs.
You can climb the mast and enjoy the view from on high. Under the watchful eye of our experienced crew, scale the rigging just like a sailor of yesteryear but with the added assurance of 21st Century safety gear.  From your vantage point, high above the deck, you will get an entirely different perspective of this incredible ship and the seas below. You may even, if you're lucky, be the first to see Dolphins.
A Day Sail includes a delicious on board catering, tea, coffee and cool drinks.
Come sailing on South Australia's greatest asset – our lady of the sea the STV One & All
Departure Time: 10am (note boarding time 9.15 am)
Return: 3pm
Adults $99
Concession / Full Time Student / Pension Card $89
Child (yrs 6-14) $69
Apr
1
Sun
Open Day

@ McLaren Wharf
Apr 1 @ 11:00 am – 4:00 pm
Come on board and see South Australia's greatest sailing asset. Walk the decks, be at the ship's helm, venture into the galley and the saloon. This handcrafted ship will tell you the stories of yesteryear of how sail transport & life on board was like. The STV One & All is a living and working vessel providing experiences and enjoyment to the people of SA. This Open Day will give you an insight to sailing history to be shared. You are welcome to ask questions, and may want to consider booking a day sail or even a voyage.
Open from: 11am – 4pm
Entry: Donation