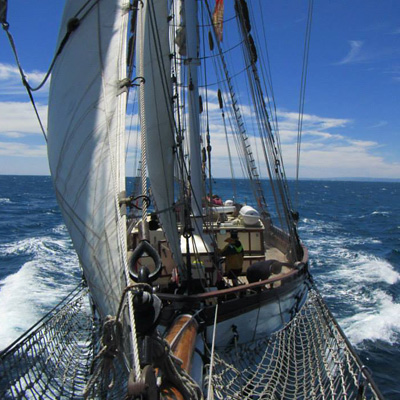 Come on board the deck of One & All while we are in town for the Tunarama Festival. Take the opportunity to have the same experience as thousands of sailors across the ages. Get involved in setting the sails, or alternatively, sit back, relax and soak up the atmosphere in our deck chairs.
As we sail around Boston Bay, you can climb the mast and enjoy the view from on high. Under the watchful eye of our experienced crew, scale the rigging just like a sailor of yesteryear but with the added assurance of 21st Century safety gear.  From your vantage point, high above the deck, you will get an entirely different perspective of this incredible ship and the seas below. 
This sailing event will include afternoon tea on board, tea, coffee and cool drinks.
Come sailing on South Australia's greatest asset – our lady of the sea the STV One & All
Departure Time: 2pm (note boarding time 30mins before departure)
Return: 4pm
All tickets $69pp